S&W Giveaway Dragster Build Timeline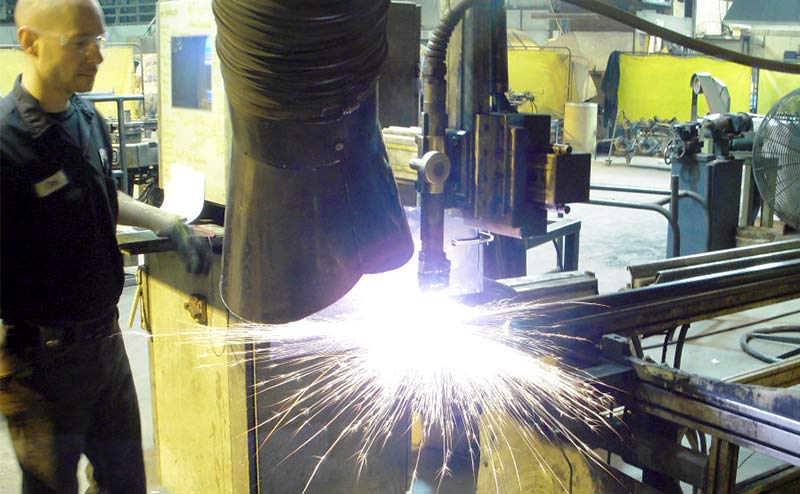 Long time S&W Welder/Fabricator, Chris P., is the lead builder of the 2015 'Fun in the Sun Dragster.' On September 4th, Chris began loading the tubing cut list into the Plasma Cutting control center. Now, the Fireworks begin! The Plasma cutter cuts the material to length, notches and cuts angles on the Chrome Moly tubing.
S&W is pleased to announce our support of the 2015 Fun in the Sun Race – a Tribute to Scott Weney. The 2nd annual 'FIS' race is dedicated to S&W's former President and 'FIS' co-owner, the late Scott Weney. Thanks to the efforts of Scotty Richardson & Jeff Stange, the Fun in the Sun race will continue to shine on! S&W not only looks forward to supporting this event, but also future Gear Head Racing Series promotions.
The S&W Performance Group will be offering contingency prizes to daily 'FIS' Winners & Runner Up's, PLUS one NEW 2015 S&W Dragster Rolling Chassis will go to the 'Race for the Dragster' Winner. Thanks to support from our generous vendors, this dragster will be loaded! Strange Engineering, Sander Engineering Inc, PROGLASS, Taylor Motorsports, Riggeal's Performance Fiberglass, Van Industries, Inc., Fragola Performance Systems, FK Rod Ends, QA1 Motorsports, DJ Safety, Mark Williams Enterprises, Inc,. The 4-Link Rolling Chassis will feature a 235″ wheel base, 23″ wide Carbon Fiber Seat, 1 piece Fiberglass Body, a Quik Latch Nose (with trailer hanger,) Hidden Tow Hook, New S&W Aluminum/Carbon Fiber dipped dash and cover, Black Wrinkle Finish Interior, Powder Coated Chassis, STRANGE rear end components. More details to follow.
1. The Chrome Moly tubing is on the cart and labeled. 2. Brackets are being pulled from the stock room and others are being made from scratch. 3. The 4-Link is on its Jig, tacked and ready to be welded.
The Chassis will be made of Chrome Moly donated by McKnight Steel & Tube Co. McKnight Steel & Tube Co. started operations in Philadelphia, Pennsylvania in 1954. The company specializes in the wholesale distribution of carbon, stainless, alloy and aluminum tubing and pipe products in round, square, and rectangular shapes.
The corporate mission of McKnight is to provide quality metal products at a competitive price with on time delivery. "The Company will establish a framework which emphasizes "continuous improvement" and provide ongoing employee training to assist in this process. We will offer solutions to any metal question or problem while providing outstanding customer service. Our goal is to establish long-term relationships with our customers." ~G.F. McKnight III, President
The 4 Gallon JAZ Fuel Cell with Foam measures 12-1/4″ x 10-1/2″ x 8-3/4″ High. The S&W made fuel cell tray and mounting strap have been fitted and welded into place.
The Fun in the Sun dragster chassis is beginning to take shape. Lower & Upper frame rails, Diagonals and Front End components are fitted and tacked into place.
All Aboard! More of our A++ 'Made in the USA' vendors have recently joined the Dragster build. We can't thank them enough for making our special project X-TRA SPECIAL. Welcome: PRP Racing Products, Pro-Werks, Quik Latch Distribution, HydroGraphic Solutions, ButlerBuilt Motorsports Equipment, USA Auto Supply Inc.
Wilwood and Vintage Metalcraft have joined the cause on October 2nd! Wilwood is the leader in racing, performance aftermarket and OE brake systems. Since the company's inception in 1977 by Bill Wood, they have developed a substantial matrix of brake components and engineering techniques that allow them to quickly and reliably create brake systems for almost any application. In addition to designing and manufacturing brakes for all types of competitive motor sports, Wilwood also manufactures brake systems and components for agricultural equipment, industrial applications, utility vehicles, snowmobiles, quads, motorcycles and military vehicles. Their headquarters is located in Camarillo, California.
If you are in need of paint and car care products…Visit USA Auto Supply Inc. of Philadelphia. They are the Professionals Choice in automotive car care products. FIS build supporters, Vintage Metalcraft and HydroGraphic Solutions, happen to be USA Auto Supply customers!
The dragster looks great with its 'suit' on! The Riggeal's body is in position, mounted and most of the tin work is complete.
The Pro Glass windshield was fitted and in position to be mounted to the body. It will be disassembled soon and shipped out for bodywork at Vintage Metalcraft. After Barry, at Vintage, does his magic, the body and nose will be sent to HydroGraphic Solutions for Hydro-Dipped paint. The Paint will be supplied by USA Auto Supply Inc. of Philadelphia. S&W Precision Specialties Waterjet specialist, Brian Grinnell, cuts various brackets & tabs for the project.
The Dragster Chassis returns from being powder coated at Van Industries. Now, it's ready for final assembly to begin.
The Dragster Chassis has returned from being Powder Coated at Van Industries. Van has been S&W's main provider of media blasting & powder coating services for many years. They are more than just powder coating! Please visit their website for more information.
Vintage Metalcraft has done a spectacular job on the bodywork and paint applied to the   Riggeals Performance Fiberglass Body. The S&W Team had made some design modifications that required an A++ 'body-man' and Barry Parker of Vintage pulled through!
Strange Engineering rear housing & axles have arrived! The QA1 Double Adjustable Shocks & Springs are here too, and ready for installation. Of course, a ROLLER isn't a Roller without wheels! Thanks to Sander Engineering, it's going to be rolling in style on 16 x 16 Rears & Spindle Mount fronts.
FK Bearing has provided Chrome Moly Rod Ends necessary for the build. Top notch components are In-The-House from Strange & QA1. The Mix-Masters at HydroGraphic Solutions are getting the USA Auto Supply base paints ready for Hydro-Dipping. It's almost SHOW TIME…Time to Show Off all of the wonderful vendors that are participating in the project.